The first place winner of each individual category (men's and ladies) receives a special prize.
Four days accommodation on the Island of Santorini at the luxurious "Aegagros Caldera Houses" studios!
Our two sponsors showcase the best of Greek hospitality (filoxenia) and cuisine and include Aegagros Caldera Houses and Fino Greek Vinegar.
Aegagros Caldera Houses on the beautiful Greek Island of Santorini provide stunning holiday villas with breathtaking views overlooking Santorini and the Aegean Sea. Shaped by a devastating volcanic eruption in the 16th Century BC, the island is renowned for its unique and remarkable natural beauty.
As our main sponsor we are thrilled to announce that the winners of the individual open events (men and ladies divisions) will both receive a holiday for 4 nights in a luxurious apartment with breakfast. For full details of Aegagros Caldera House please visit their Facebook page .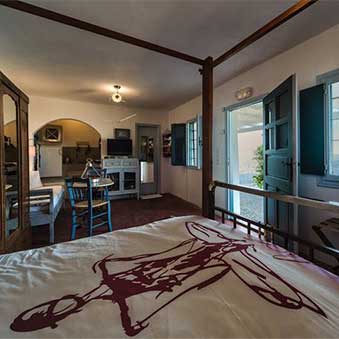 Our other sponsor Fino Greek Vinegar is a Greek producer of high quality culinary products, such as balsamic vinegar, balsamic cream, and lemon juices. Founded by the Haina family in 1930, Fino Greek Vinegar is now one of the largest producers in the country with an extensive product range. For further details as well as delicious cooking ideas and recipes highlighting the best of Greek cuisine please visit Fino at their Facebook page or via their website www.greekvinegar.com.